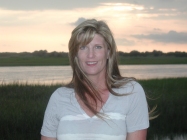 Artist Statement
I grew up in Indiana on a small farm outside of Indianapolis. I have a B.A. from Indiana University in Bloomington, Indiana.
I then moved to Tampa with my husband and we have lived together in Florida for over thirty years. We have two children who are now somewhat grown but remain close to us at heart.
I love adventure, people, colors, laughing, traveling (especially to Europe and Napa Valley), design, and most of all, my family.
I consider myself a curious, energetic, playful, loving, and joyful artist, mother, and woman.
I have worked an array of jobs, but the ones that spoke closest to my soul were freelance interior design which I held for ten years and the everlasting job of being a mother. I now consider myself an artist and sell my work at local antique stores and my shows. Who knows what will take hold of my heart next!